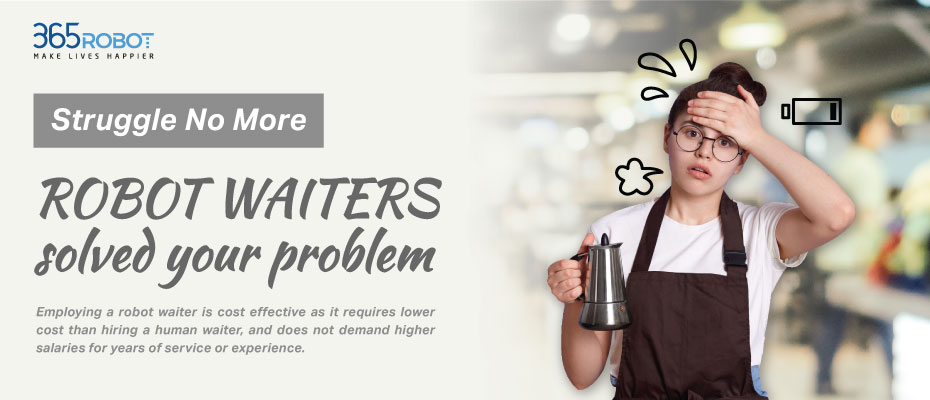 With the gradual improvement of the COVID-19 situation, the performance of restaurants and cafes have started to improve as most social events and gatherings are resumed. While most restaurants may have had enough workers to meet the operational needs during the lull COVID-19 pandemic period, they faced a shortage of staff when the restaurants' turnover picked up.
The nature of the Food & Beverage industry requires intensive labor and long working hours leading to the difficulty in hiring. Besides, people are reluctant to join the restaurant industry since jobs as waiters have little career advancement. That's where the robot waiters come in.
365Robot provides robot waiters that are able to deliver freshly cooked dishes from kitchen to selected dining area which is previously carried out by the service team. The robots perform stable delivery services by avoiding obstacles safely and navigating accurately while delivering the meal. The highlighted feature of 365Robot's robot waiter is that when multiple robots meet each other on the same premise, they are able to avoid each other autonomously without human intervention. The robot can perform more task than you think, as it is also available for the following functions:
Serve as a receptionist to introduce signature dishes and guide customers to assigned tables upon arrival
Broadcast songs based on the festivals or events, for example birthday songs or Christmas songs during food delivery
Display promotion held or event details during food delivery
Collect used cutlery and plates back to washing area
Cruise on a designed route to serve snack or drink to customers during events
Robot waiters can serve as a long-term solution to manpower shortage. Employing a robot waiter is cost effective as it requires lower cost than hiring a human waiter, and does not demand higher salaries for years of service or experience. It also does not fall sick and can operate for a minimum of 12 hours on a single charge. The use of robots are not meant to replace humans, but to assist humans in the F&B industry. It prevents current workers from being overworked as a result of manpower shortages, reduces their fatigue level, and allows them to concentrate on providing better customer service.
Robot waiters could be a good assistance for humans and assist humans to get the work done in an efficient way, and the use of robots in the F&B industry will be a trend of the future. Fret not, human workers can work with robot waiters as a happier team than you think.
The PSG grant is up to 80%* till 31 March 2023. From 1 April 2023, all sectors can only receive up to 50% support for PSG. Don't miss the last chance to save more if you are interested in hiring a robot waiter for your restaurant. Feel free to fill up the form here and 365Robot's team is happy to help!